BBIEAL Mod Menu
A downloadable Baldi's Basics for Android
Warning
Yes, you should already know that the mod is not mine, please do not report me, just to warn you, that I will give Fasguy credit for the original mod, this mod is not "pirated" or "illegal", I did asked him before about re-uploading here, I will update this mod when there is update
Btw here's proof I did asked him before: (don't read caption, kinda gross ;) )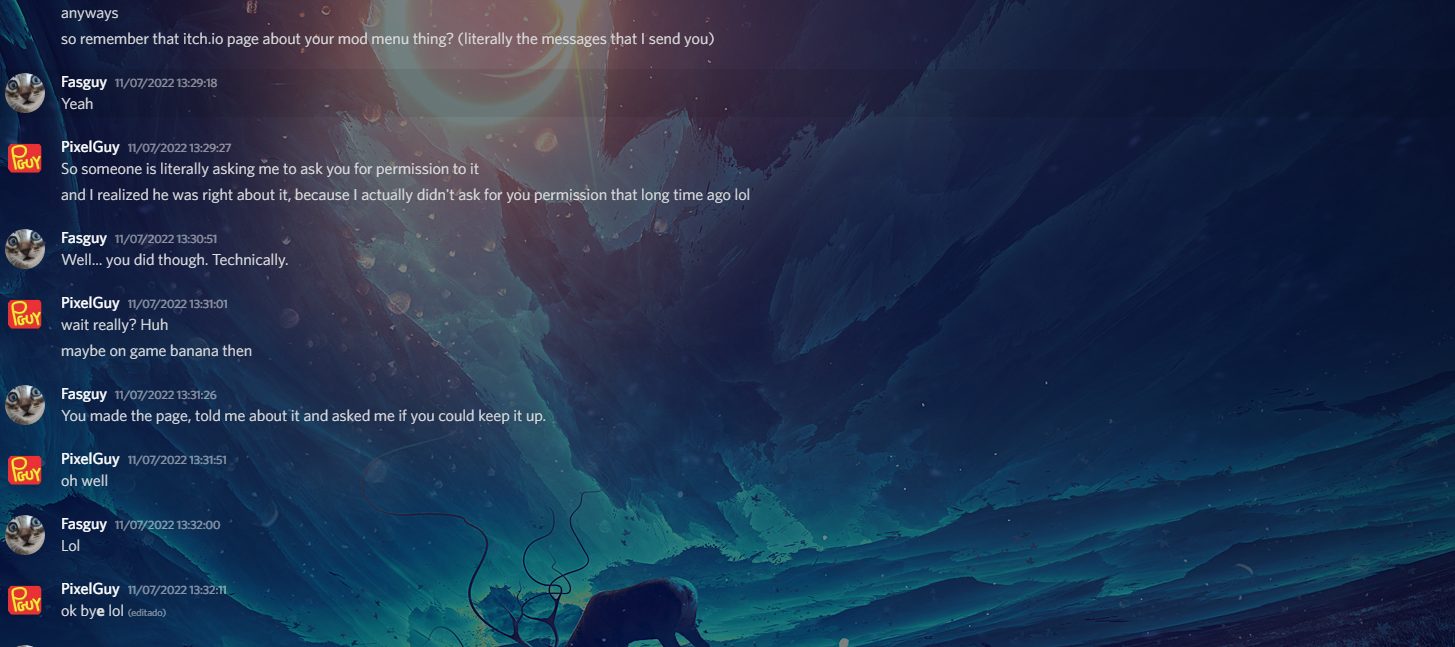 Here's Proof, now stfu
Oh, and the most important: Just to clarify, this is not my mod, probably Fasguy will no longer update that mod menu, so don't ask suggestions
For everyone who was asking when bb+ mod menu will exist:
Credits
Fasguy ←- The creator of original mod
Want to report issues? Go there
Features
Make characters ignore you
Change the speed, size and visibility of characters
Enable, disable and clone characters
Edit your inventory and item values
Make characters ignore you
Character, notebook and Exit teleports
Infinite items
Scene manager
No clip
An answer to the impossible question
Requirements
Dependencies and prerequisites required to use this Game file
(The description of the requirements and features copied in GameBanana)
Contact
If the link doesn't work, tell me, I'll update soon!
If you want older versions of the mod menu, go to mod menu vault in downloads session
You can check out my new game!
Install instructions
### WINDOWS ###:
Windows Video Tutorial:
INFO: If you want to use the mod, then you need to have the original game already installed.
1. Find your existing installation of the game.
2. Go to [Game Name]_Data → Managed
3. Extract the "Assembly-CSharp.dll" file into this Folder.
4. Replace the already existing file.
5. Start the game.
6. Press TAB in-game (to open the Mod Menu).

####ANDROID####
It's a .APK file, meaning it's like a .zip file that only androids accept, instructions below:
1. You download the apk, the download button will be below
2. After downloading, you extract or install the game (these apks come with the game)
3. After install you will open the game and have the normal android game
4. You start the game, and you will see that you have a black balloon that says "mod menu", you click on that balloon and the whole modification list will appear for you to play. To close the list, click on the black balloon again.
Extra Instructions: You can move that black balloon by simply clicking and dragging to any corner of the screen.
Notice to android users: Both apks have already seen the android game along with the mod menu.
Warning for all peoples:
If you find bugs in the mod menu, say here, I'll talk to his creator your bugs.